WE OFFER A VARIETY OF CREATIVE SERVICES TO SUITE EVERY NEED
A strategy is a formulated action for the sole purpose of achieving goals. At Social Red Bird, our thinking process is defined by your measure of success. To attain those aspirations, we integrate a combination of our technical and creative skills that spans the globe. In doing so, we are capable of supplying various concepts through our Social Red Bird process, executing a strategy that will get you the results you desire.
After an optimized strategy is engaged, this is where the execution starts. And while conventional marketing content can give light to features of a product or service itself, customers are searching for more of an warm connection. It's about the adventure, developing a special and emotional experience between you and your customer. Storytelling grants the information to be characterized in such a way that it is interlaced into the habits of the target audience. At Social Red Bird, it's our mission to make creative content that broadcasts a compelling message, and hooks with the customers and businesses on an emotional level.
Website development innovation is one of our strength's. With years of experience, a team of web specialists and strategic masterminds – we specialize in producing ideas, and have the strength and technical knowledge to carry them out. We compile our marketing and technology comprehension, combining intuition and creativity to help solve business plans. From developing basic straightforward websites to multi device compatible solutions – we build results to meet the standards of your business today and in the future.
Learn More About Our Company.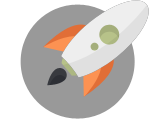 We're Here To Help Your Business Blast Off!
Through Creative Ideas, Innovation & Sheer Determination