OUR MISSION IS TO BUILD SOLUTIONS FOR YOUR EVERYDAY PROBLEMS

We're a brand experienced company that knows business.
We're not just an agency; we're a company of seasoned, business-minded individuals that comprehend that the fundamental goal of your business is to drive sales while establishing and growing your brand.
We bring a powerful background of solution knowledge in B2B and B2C brands across all sorts of industries.
The ingredients to our success is of what we do with your story. It comes from attaining your business objectives like return on investment, adding a unique brand strategy, or developing brand awareness. At the end of it all, we achieve the results you were looking for.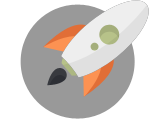 We're Here To Help Your Business Blast Off!
Through Creative Ideas, Innovation & Sheer Determination