Industry Leading Cloud Services
Enjoy Complete Piece Of Mind With Social Red Bird Hosting
Hosted private clouds are scalable, separated computing environments tailored and fit for any workload or utilization migrated for free by Social Red Bird. Created with trusted business-class technology and powered by our worldwide network, Social Red Bird's private clouds are perfect for companies looking to lower time spent maintaining infrastructure without giving up power, performance and flexibility. Social Red Bird gives 110% than the classic private cloud hosting model by offering full modification, adjustable managed service plans, strong security solutions, and dedicated US-based support.
Incredible Cloud Hosting
Cloud Servers That Won't Fail

Created to free all departments from busywork & upkeep.
∙ Adjustable managed services — completely managed or co-managed. We'll take care of all the work. Take over whenever you desire.
∙ Preserve full power with our platform, as well as vCenter and vCloud Director. Effortlessly manage resources, VMs and appliances.
∙ Position your hosted private cloud quicker with Social Red Bird's automation, specialist consultation and careful onboarding.

High-grade alternative to solutions like Amazon Web Services or Azure.
∙ Rightsized environments mean you won't overpay for resources you don't need — a proven mechanism for reducing server sprawl.
∙ Built on familiar, enterprise technologies from VMware, Cisco, Microsoft and Intel. No need to learn new tech.
∙ Spin up unlimited VMs at no additional charge. You only pay for the reserved cloud resources.

Perfect for protection & compliance.
∙ Compliant-focused architecture for organizations requiring HIPAA or PCI compliance.
∙ Shield Managed Security included free with all private cloud hosting solutions. Upgrade to Shield Plus for advanced network and app-level security.
∙ Proven best-practice environments for data backups and disaster recovery failovers.
A Proven Platform
Full Time Uptime. Full Range Of Features.
We believe that everyone should have access to features that the cloud provides, like ultra-reliable hosting and automatic scaling (for when your website gets a burst of traffic), without having to worry about building a complex hosting setup.
When your website gets a spike of traffic, Social Red Bird automatically scales up your resources so you don't see latency or downtime. This feature, which was typically only possible with complicated enterprise hosting deployments, comes standard with Social Red Bird.
Questions?
Your cloud provider should answer these security questions without hesitation.
Social Red Bird's cloud security experts answers the questions all companies considering a move to the cloud should have on hand when shopping private cloud hosting providers.
Let us know if there's something we can help you out with or if you're unsure of. Social Red Bird will have you covered.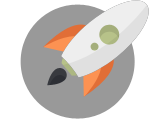 We're Here To Help Your Business Blast Off!
Through Creative Ideas, Innovation & Sheer Determination